Lake Geneva Inn that Offers Great Amenities!
This Lake Geneva Inn with nine guest suites is one of the most romantic inns!
Some Lake Geneva inns offer whirlpools or fireplaces, but most don't offer double whirlpools in the sitting room with a view of the fireplace!
ALL of our suites include great romantic amenities…
Whirlpool for two with a view of the fireplace
Scented bubble bath for your mounds of bubbles in your whirlpool
Fluffy bathrobes to relax in
Bottle of champagne or wine
To make your stay even more romantic, order our delicious Enchanted Evening Picnic Basket Dinner. We'll deliver it right to your door so you can enjoy it in front of the fireplace!
Each of the guest suites at our Lake Geneva Inn have large private patios or decks. Large private decks or patios are also something most Lake Geneva inns don't offer, but we do!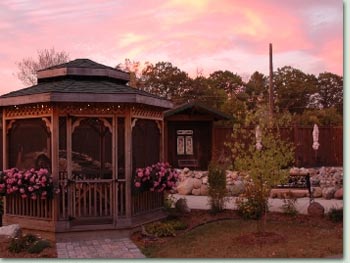 Each outdoor area has a dining area so you can enjoy a romantic dinner under the stars. Since we are a couple minutes outside of Lake Geneva, you'll be able to see lots of stars. With views of the woods or water fountain in the gardens, this is a great place to enjoy the breakfast that is awaiting you. A continental breakfasat with homemade Cinnamon sticky rolls and other pastries, plus coffee are waiting in your suite so that you can enjoy it whenever you like.
Located just a few miles west of Lake Geneva, Wisconsin, this is a wonderful place to relax and enjoy the company of your special someone. So enjoy a sunset boat cruise on Lake Geneva or stroll around the lake or drift away in a hot air balloon ride.
On the grounds we have a large goldfish pond with lots of koi, water lilies and a beautiful waterfall. A nearby screened gazebo and a patio area are a great place to relax, enjoy the fish and watch the sun set.
Enjoy a Beautiful Sunset at a Lake Geneva Inn Enjoy a Beautiful Sunset while Enjoying this Lake Geneva Inn
When looking for Lake Geneva Wisconsin hotels, look no further than the romantic Lazy Cloud Inn! Visit www.lazycloud.com to view rooms and book now!