Log Cabin Suite
Love the intimacy and seclusion that staying in a Log Cabin conjures up? Plan your romantic Lake Geneva vacation getaway to the Log Cabin Suite at Lazy Cloud, and you can make that vision become a reality.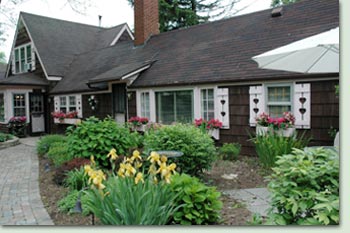 Your romantic Lake Geneva vacation begins as you walk through the door.
You will actually feel as though you are entering into your very own Log Cabin with its hardwood floors, and logs on the wall and ceiling, and primitive country decor you will feel your cares just slip away as you let the coziness of the suite envelop you.
A double reclining leather couch is a wonderful place to lounge while enjoying the crackling fireplace on your romantic Lake Geneva vacation.
Toast each other and then place your champagne flutes on our antique trunk which is used for a coffee table.
There is a beautiful original, floor to ceiling brick fireplace at one end of the living room with the whirlpool located at the other end.
You'll continue to enjoy your Lake Geneva vacation from your double whirlpool which has a magnificent view of the fireplace.
Grapevines are wound above the whirlpool on the ceiling as the mini white lights cast a soft glow.
Romance awaits you as you step across the threshold into this beautiful bedroom done in soft hues of roses and greens. To complete the romantic atmosphere, a fishnet canopy surrounds the bed to give it an extra touch of ambiance and romance.
Check Log Cabin Suite Availability Here
Then call 262-275-3322 to book your Lake Geneva vacation now!